This week, we take a look at Gen Z's opinion on fashion dupes in the midst of the cost-of-living crisis. Heinz targets gamers (literally?) with an awareness campaign around soil degradation. Is TikTok becoming the next search engine? Google thinks so. And finally, we see some real progress, thanks to medical advancements, showing up in an unexpected way. Enjoy.
No fear of fake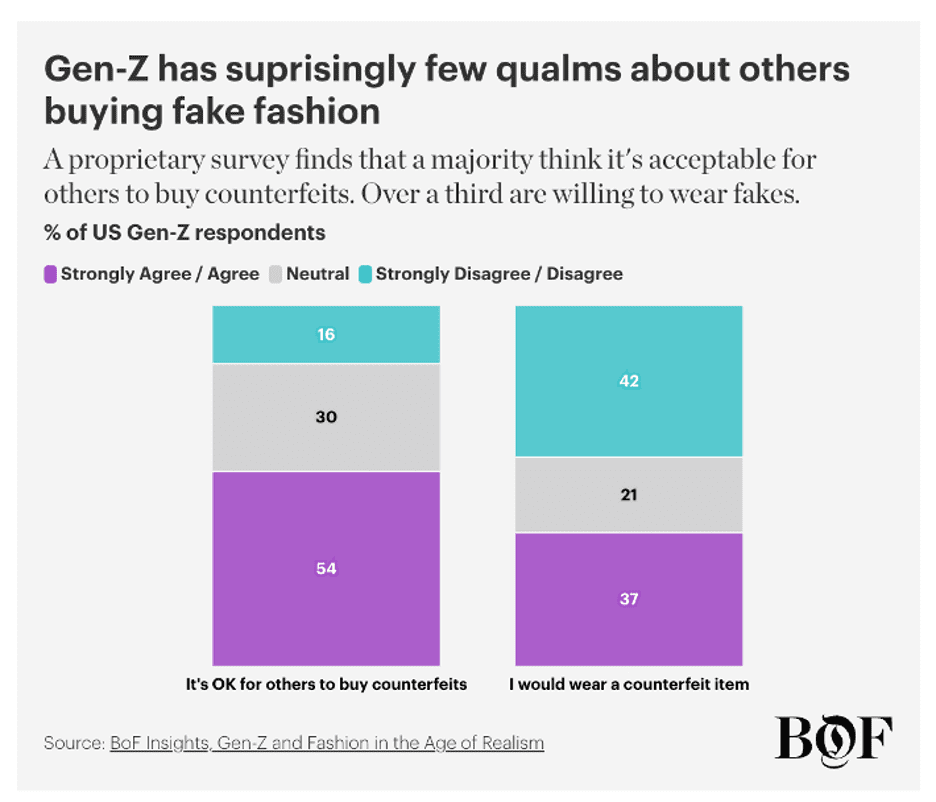 Gone are the days of GUCI, Ray-Bons and Polo Ralph Lauren riding a donkey – luxury fashion 'dupes' have upped their game and with it, said goodbye to the taboo of wearing knock-off designer brands, according to Gen Zs, anyway.
A survey by Business of Fashion revealed that more than a third of 13 to 25-year-olds are happy to don fake designer brands rather than fork out for the real deal. With the cost-of-living crisis in full swing, consumerism is still being supercharged by influencer culture. A different designer bag for each day of the week is often part of the desired look. But if it looks good on Instagram, who cares if it's fake?
We love the counter-cultural, no-fxxks given attitude, but of course there are ethical implications. First of all, there's the infringement on intellectual property. Then there's the question of where, by who, and under what conditions are these products being made? And will we see "luxury" items become part of the environmental steam train that is fast fashion?
AN INSPIRED IDEA–IN HEINZ SITE
Us Irish consumers are familiar with seeing Heinz products on the shelves in supermarkets. Where we are not used to seeing Heinz is in the midst of a Battle Royale on the popular gaming platform, Fortnite. But a new campaign is bringing the sauce gurus to our gaming screens.
"But Why?", I hear you ask. To build a tomato awareness campaign, of course! By using a map called "SOS Tomatoes" Heinz attempts to recreate one of its very own tomato farms with gamers allowing them to experience the whole tomato-growing process as part of the game. In doing so, Heinz hopes to highlight a real world concern, soil degradation, which is affecting soil quality worldwide.
The company itself has committed to achieving 100% sustainable ketchup tomatoes by 2025. Does raising the issue virtually have real substance? We think it's a great way to raise awareness among a younger generation – an inspired idea that will have other brands trying to ketchup!
TikTok: the aesthetic search engine
How often are you reaching for TikTok over Google? This question has the world's largest search engine curious.
Last year Google senior vice president Prabhakar Raghavan said that Google's studies found that "almost 40 percent of young people reach for TikTok or Instagram, instead of Google Maps or Search when looking for a place for lunch".
While Google still trumps in terms of users (by a landslide), TikTok's personalised approach to searching the net is a fresh take on search engines, particularly amongst younger users who are fluent in consuming informative clips and reels.
No doubt more and more people are turning to TikTok to aid their search for information, so much so that the platform is marketing itself as a search engine.
But what is the draw? TikTok offers an aesthetically engaging way to search for content. TikTok searchers also seem to like results ranked by engagement, as opposed to Google's rigorous attempts to measure 'usefulness', and verified by comments, likes and even stitches which help generate conversations around specific topics.
While TikTok isn't going to replace the search engine any time soon, it does offer an interesting alternative and variety is always welcome!
No More Wishes
Good news sometimes hits in a strange way.
We were surprised to see that the Make A Wish Foundation in the UK would no longer be automatically accepting wishes from kids with Cystic Fibrosis. Until we realised that modern treatment means that the disease is, for many kids, not life threatening.
This is nothing to do with marketing, but it's everything to do with progress – of the best kind.
Read more here.