We have reached the midpoint of the year. How? We're not too sure either so for this week's edition of Our Take we bring you comfort in the form of stories about dogs and sunlight. We also channel our inner Dua Lipa by sprinkling some Future Nostalgia alongside some forward-thinking brands showing their wares. Finally, we're obliged to issue a PSA for our final story of the week – have the tissues at the ready!
DOG-GONE FROM HOME TO OFFICE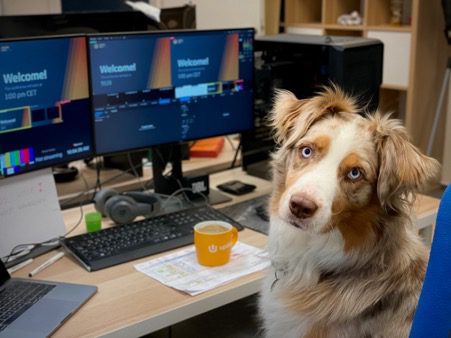 Why has it taken this long for dogs in the office to become a mainstream topic of conversation? It seems, sadly, we're just a bit behind here. For years, dogs have been a most acceptable brunch-date in the fanciest of restaurants and stores across cities in the US; and in recent years the UK have decided they're OK with that too. But here we are, in the old Emerald Isle, last to the party once more. What are we all afraid of? For sure, a pet-friendly office may require an open-minded attitude and a stash of Bonios in the kitchen cupboard but if it helps ease employees back into the office environment then we're all for it.
Large organisations like Amazon + Ben & Jerry's have welcomed furry friends into their spaces for years but not without good reason; they recognise the wellbeing benefits of having dogs around. Having a pup under the desk (or if you're turbo lucky, in a specialised doggy-day care facility) has been proven to reduce staff absenteeism as well as boost productivity.
The last year has been tough and the number of people looking to adopt a dog increased by an unprecedented 134% compared to the previous year. Coupled with the fact that we know people's lives and priorities have changed, we see no option but to paws for thought (sorry) and at least consider introducing a pet-policy at work.
And hey, if it's a no from the boss, grab yourself a Smart Tamagotchi. That's right, 25 years on from the release of the OG Tamagotchi (terrifying!) and they've released a touch screen, voice activated version. Not only can you digitally feed and play with your pet, you can now tickle them through the screen, or lullaby them to sleep with your voice. Nothing downright weird about that, at all!
PRINT THAT MAKES AN IMPRESSION
This week we came across two examples that reminded us how brilliant, good old-fashioned print and outdoor advertising can be.
The beautiful ads for Volkswagen Service & Maintenance simply show old VWs in a future world, complete with robot dogwalkers and jet-bikes. Produced by DDB Paris, they even contain a clever nod to DDB's famous ground-breaking 1950s ads for VW: one of the street signs reads Bernbach Avenue. Rarely has something so futuristic felt so nostalgic.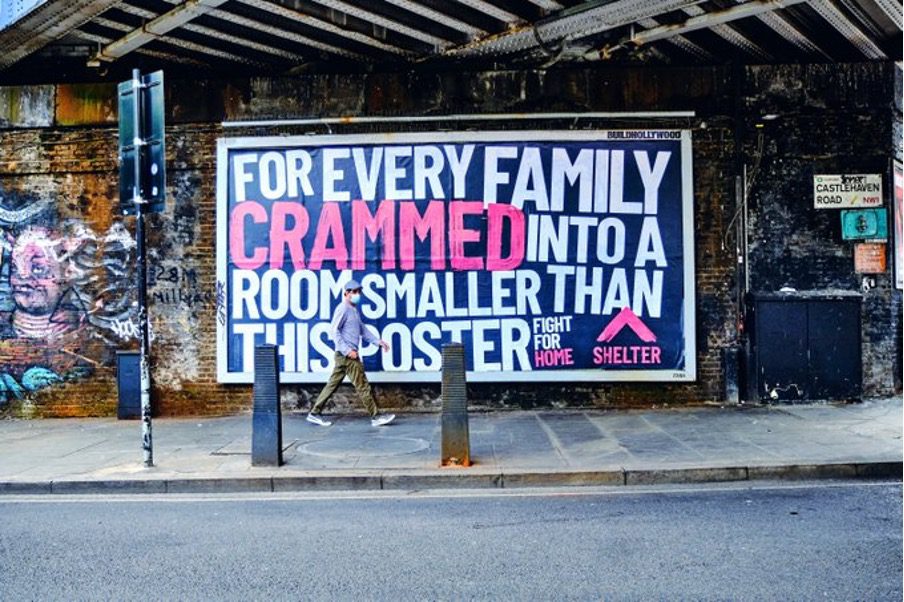 And rarely has a 48-sheet poster been made to look so small. London's Jack Agency's poster for Shelter crams more than a headline into its space… it crams in a story of poverty and homelessness. There's no movement or animation, no celebrities or influencers, just great ideas, perfectly visualised, telling a relevant story in a clever and engaging way.
IT'S CALLED FASHION; LOOK IT UP
What would you say if we told you that in the year our lord called 2021, Ferrari are ruling the catwalk, Pfizer has started a clothing label and Crocs now come in Stiletto form? Well, it's true (sort of).
Earlier this week, the Guardian reported the rise in pharma-memorabilia as consumers seek to celebrate their vaccination. On eBay, old mementoes branded with Pfizer and AstraZeneca logos are selling into the hundreds of pounds while the term "vaxinista" has even made its way into our daily lexicon.
Meanwhile, Balenciaga, famed for their boundary-pushing collabs, has created a Crocs Stiletto. Apparently, the new design has resulted in a 9,900% spike in demand for the comfy clogs. And finally, Ferrari are taking things up a gear and have moved into the world of high fashion hosting its first fashion runway show at its Headquarters in Maranello, Italy. This wasn't a runway show featuring Ferrari logo-candy merch but a concept show that transported the automotive brand into the high-end lifestyle brand.
A STREET VIEW BACK IN TIME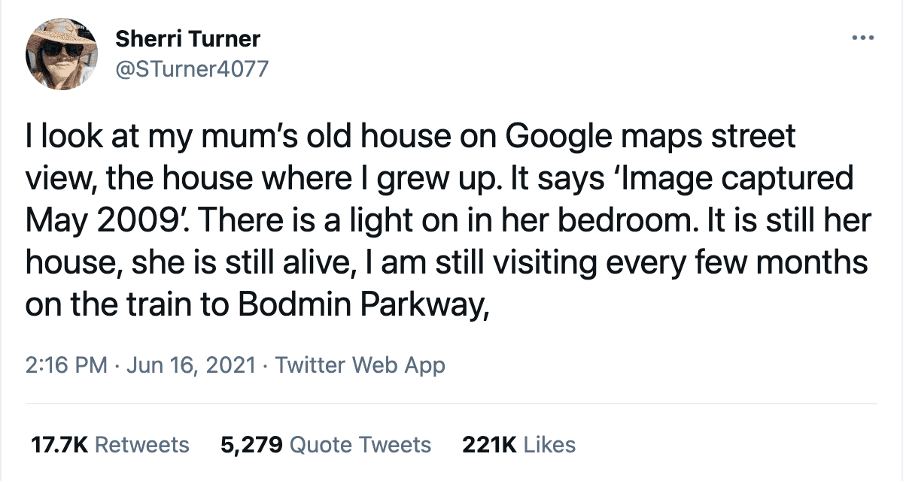 We expect Google Street View to show us how the world is right now, so finding a picture from years ago can be unexpected and, in some cases, heart-breaking. In a much-shared Twitter thread, Sherri Turner wrote how looking at her mum's old house on Street View, with the light still on is a glimpse into the past, when her mum was still alive.
Her thread is full of replies from people sharing their own stories of finding their departed parents, grandparents and friends, just working in their garden, walking down the street or shopping in Tesco. While we all have pictures of our loved ones, there's something different about these unposed, machine-captured images of them going about their days.
Maybe it's an example of how our lives and our technology have intertwined; and perhaps it shows that it isn't only generation Z who are finding new ways to explore technology. But mostly it's just a beautifully written tribute to those we will always love.
Read her thread here. Yes, you will cry.
HERE COMES THE SUN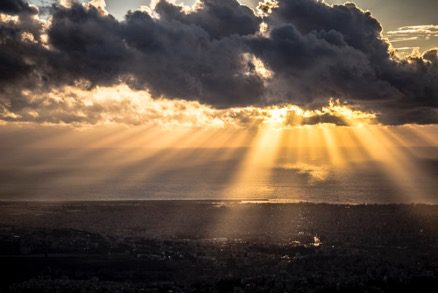 We've officially reached the halfway point of 2021 and the days will begin to get a little shorter. Still, we can count ourselves lucky that we don't lose sunlight for an entire quarter of the year. This week, Vice reported on Viganella, a small town on the Italian-Swiss border that receives literally no direct sunlight for three months of the year. Located at the bottom of a valley and surrounded by mountains, Viganella developed a creative way to bring a little more sunlight during the winter months.
When local architect Giacomo Bonzani proposed installing a sundial on the church façade, the town's mayor wanted to go one step further. He decided to bring the sun back to the town by installing a giant mirror on the mountain peak, to reflect light back to the main square. Costing €100k, the eight metres wide, five metres tall structure rotates to follow the sun, and reflects light into the town for up to six hours a day.
We wouldn't really call this a stunt, but brands like Ray Ban or Sunglasses Hut may have been altered to the sponsorship benefits of something like this. It is a perfect example of how a simple idea can go a long way if executed correctly while genuinely benefitting a community. The proof of its success is that it has inspired other towns, such as Rjukan in Norway to do something similar and after all we could all use a little more sunlight in our lives.