As the world changes, so do our tastes, technologies and cravings for things new! This week, we found a new hot chocolate trend that may be jumping across the Irish sea soon, much to the joy of our chocolate-crazed team.
In the world of tech – Tinder has added a new feature to its platform to ensure further safety when conversing with strangers. We also look at Wordle, several months after the global phenomenon hit our screens, to examine if the words are getting more difficult or are we just pulling blanks and mortified about it.
We also feature an incredible organisation that's bringing tech and community together to create teach sign language, and a we give kudos to the PayGap App that called b**s**t on some companies who were tweeting as part of International Women's Day.
Read it all below – in this week's Our Take.
COCO CULTURE 2022
Takeaway coffees were famously predicted not to make it big in Ireland – the tea capital of the universe. 20 years ago, cappuccinos, lattes and espressos were confined to summer holidays for the neighbour with notions – "Sure isn't himself off drinking cappy-chinos in Santa Ponza". Times have changed and now, approximately 75% of Irish adults drink coffee every day.
But a new trend is brewing, and coffee could be about to face a new challenger. Step forward 'cultured hot chocolate', and cue chocolate cravings… now.
Our heads were turned by fast-growing UK brand Knoops, which is now selling more than 20 different types of hot chocolate, ranked by strength, from a sweet and creamy 28% white all the way up to an intense 100% extra dark. 
The concept is based around a carefully curated percentage menu which offers chocolates to suit every taste and mood, something which sounds very similar to noises from specialised coffee baristas before they exploded. Knoops are starting a movement which we expect to be big and honestly, we can't wait.
SIGN OF THE TIMES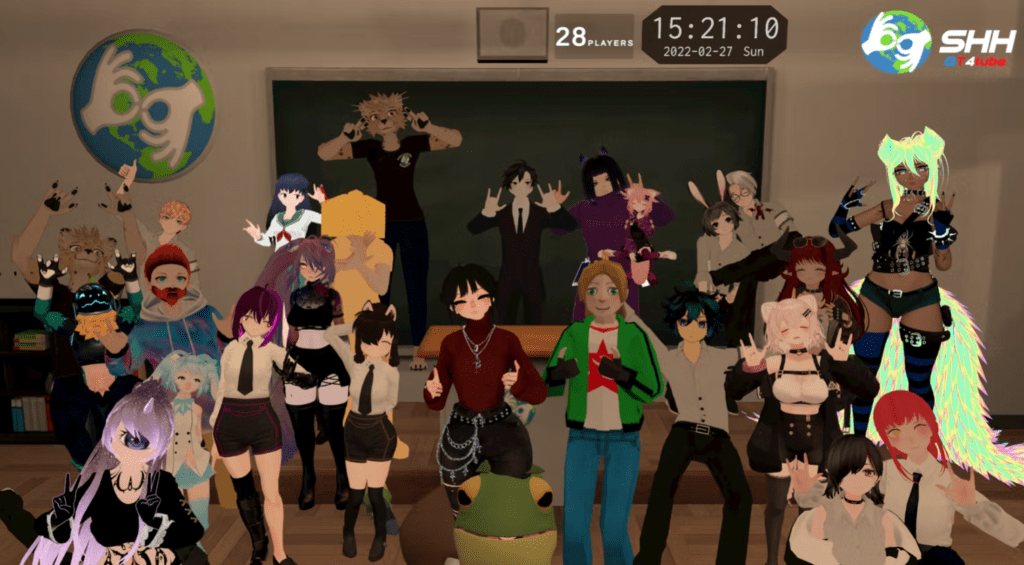 Technology can be a powerful tool for accessibility and community, and we are loving a story from one organisation that is using VR for both. 'Helping Hands' aims to better connect Deaf, hard of hearing, and hearing people, by using digital avatars in VR Chat to communicate using an adapted version of American Sign Language.
VR has its limitations – for example, the controllers limit the range of possible hand movements, and the lack of facial expressions makes things more difficult when they're considered so crucial in standard sign language – but the group has an array of creative workarounds to make VR work for everyone.
The 5,000-strong, all-volunteer, all-online community is made up of everyone from first-language signers to hobbyists, all working to develop VR-friendly versions of sign language by teaching it to people from all over the world and provide a space for their members to socialize. Although the community is small, it's been life-changing for many Deaf members, who often find themselves isolated in the physical world, which has not been helped with Covid.
It's brilliant to see, and if you're interested in learning more, check out their YouTube.
DETECTIVE DATING APP
Tinder has been testing a feature to let its users run background checks on their matches, in partnership with non-profit platform, Garbo. As of last week, all Tinder members can now access the feature via the app's Safety Centre, which is being touted as a first-of-its-kind partnership within the realm of dating apps.
Garbo aims to prevent harm in the digital age, allowing users to access public information about violent or harmful behaviour such as arrests, convictions, and sex offender registry records.
However, not everyone agrees with this new addition. According to the Guardian, some believe background checks are blunt tools that gloss over some fundamental nuances, such as that most people accused of sexual violence do not interact with the criminal justice system and the feature could also amplify discrimination against people of colour who are disproportionately targeted by the police. Personally, we think it's great to see dating apps investing in the safety of their users but they may have a while to go before they can claim they have perfected this feature.
IT'S WORDLE'S WORLD, WE'RE JUST LIVING IN IT

It's very strange to realise that Wordle has only been around since October 2021. It's even stranger to think the viral word game only exploded into public consciousness when it added the "Share" button in mid-December, and arrays of cryptic emojis started appearing on our social feeds.
So, 15 million Wordle-related tweets later, what do the numbers say? In a very fun piece of data analysis, Software Engineer Robert Lesser tries to find out. Some of the interesting points to come out of this study is looking at what makes a word hard to guess (uncommon letters and double letters were the two biggies apparently), what the most common guess number is (4, unsurprisingly), and the answer to the big question: did the game actually get harder after the New York Times bought it in February?
Answer: nope!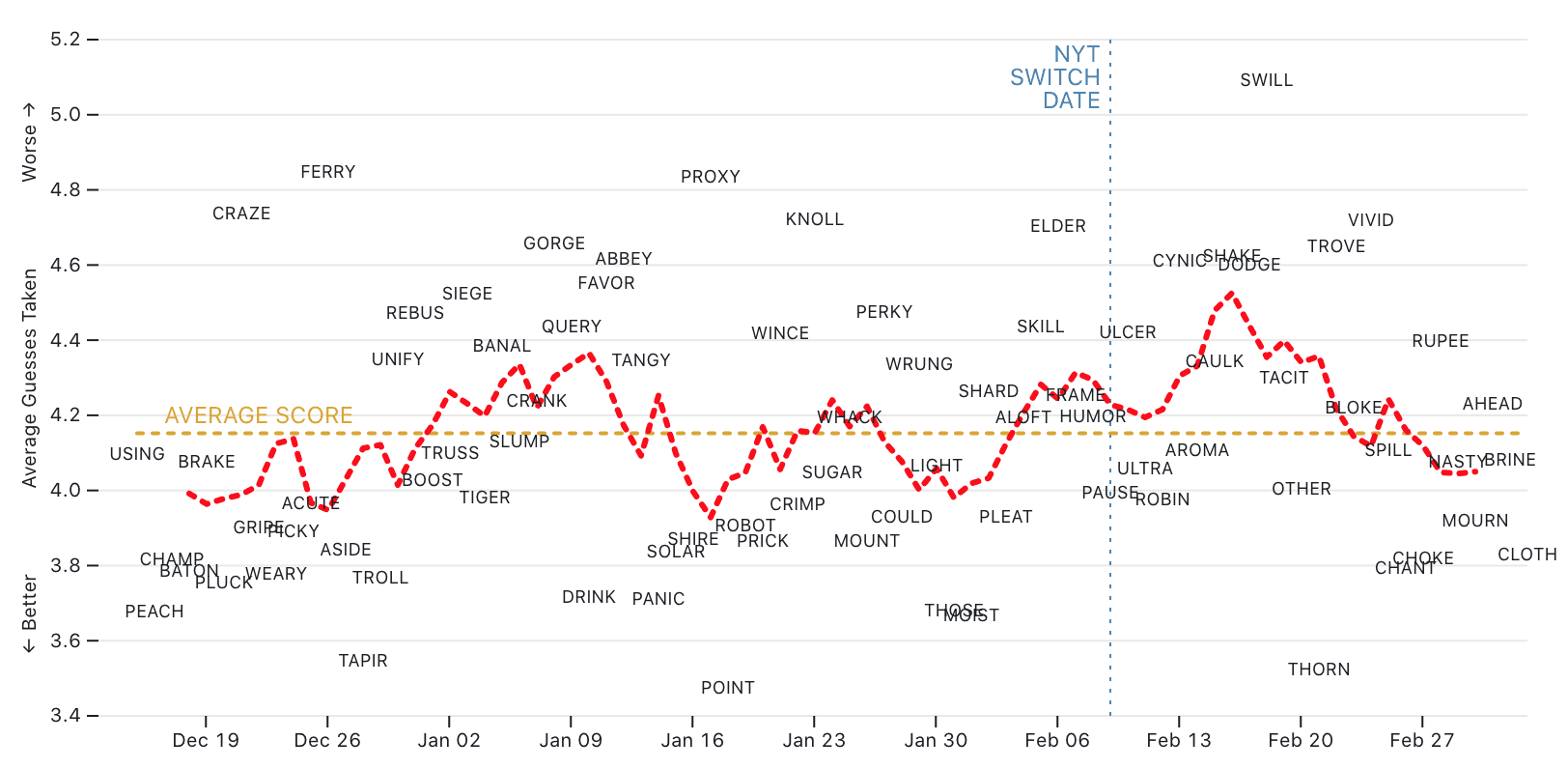 FYI – If you've been living under a rock, Wordle is a web-based game that gives players six chances to guess a randomly selected five-letter word, with a new mystery word every 24 hrs. It's easy enough to take 5 mins, just hard enough to flex your brain muscle, and endlessly shareable, with a fun sense of community generated by the fact that everyone playing is looking at the same puzzle.
BOT BEATS IWD BLUSTER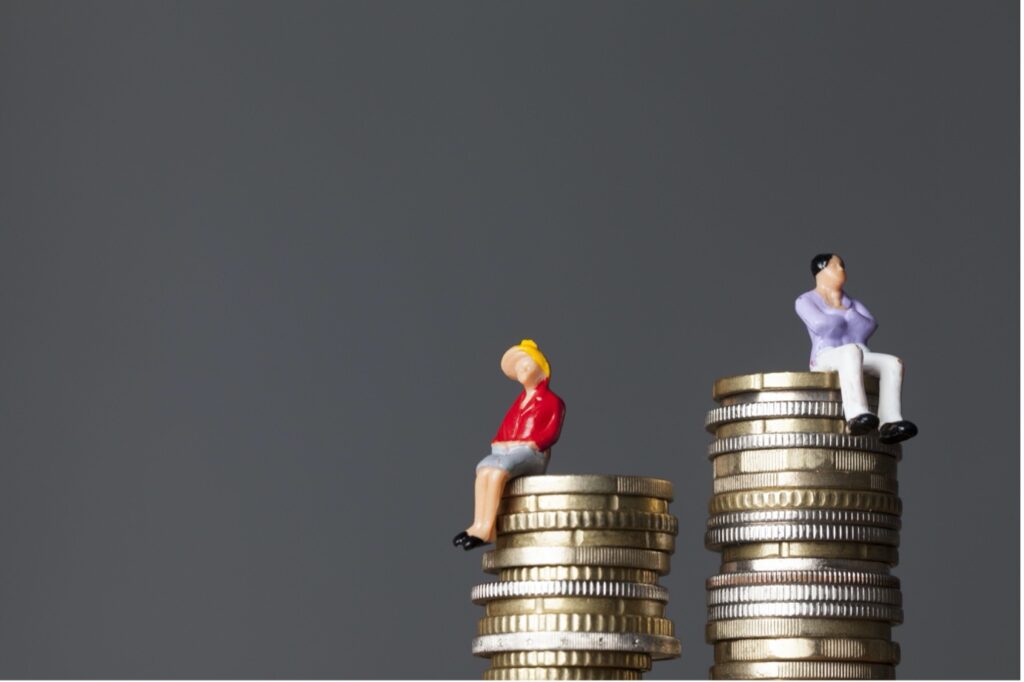 When a Leading National College Group' in the UK tweeted on International Women's Day that they were 'celebrating gender equality today for a sustainable tomorrow', they were probably expecting generally supportive responses to a fairly standard self-promoting post. They were probably not expecting to get retweeted along with the message "In this organisation, women's median hourly pay is 42.9% less than men's".
The retweet was by a twitter bot called the PayGapApp, which was developed by Fransesca Lawson and Ali Fensome. The app scanned Twitter for UK organisations using various International Women's Day hashtags, and then cross-referenced these with the UK government's publicly available Gender Pay Gap data, to reveal which organisations are living up to their talk of equality, and which ones are full of sh*t.
Countless organisations got retweeted, with precious few able to hold their heads high with negligible pay gaps or ones with even a slight benefit towards women.
And while many embarrassed social media managers were deleting their tweets, a brave few stood up and took responsibility, with commitments to further close the gap.
There's no doubt that International Womens' Day provides an important opportunity to shine a light on womens' rights. But there's also no doubt that there's more organisations 'shining a light' on women's issues, than there are organisations actually doing something about it. Genius projects like this one can change that.
Read more about the PayGapApp here.